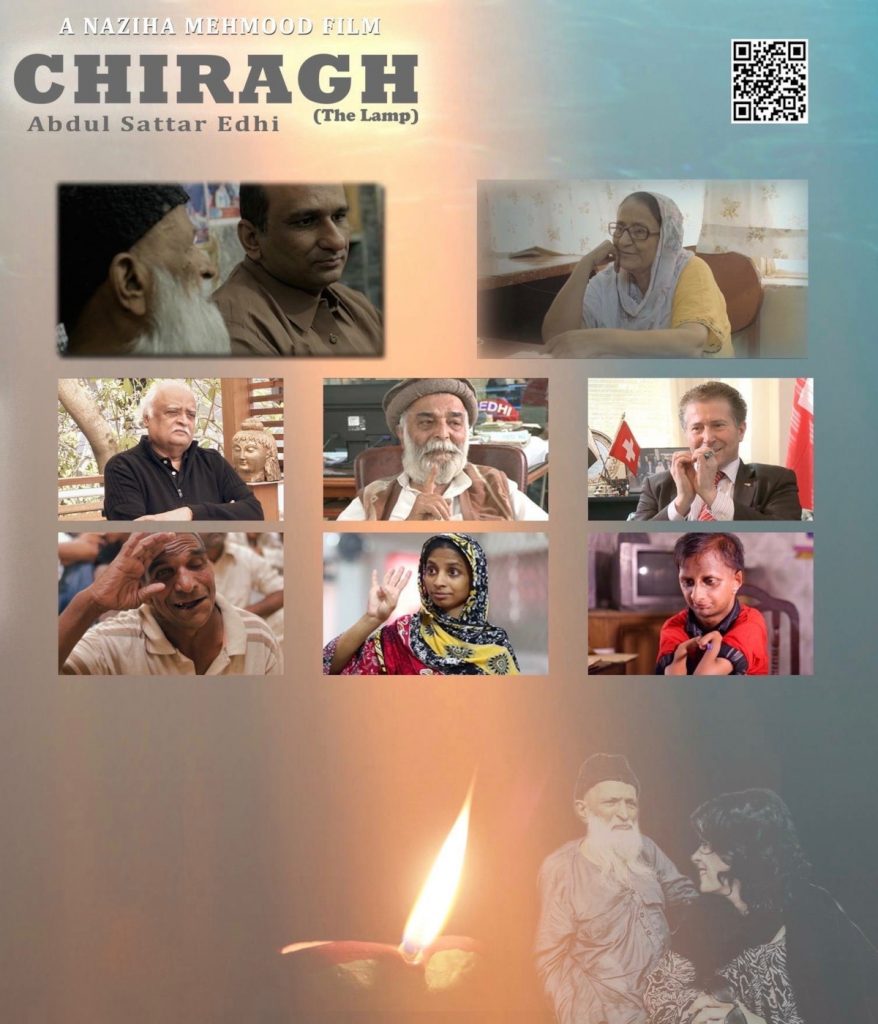 "Humanity is above all Religions." – EDHI
This is the story of a Humanitarian also known as "the Angel of Mercy". Pakistani philanthropist Abdul Sattar Edhi lived his entire life serving the
needy.
A Documentary about Abdul Sattar Edhi by Naziha Mehmood Nov 2015 – N O T P U B L I C
Duration: 26 mins
Produced By : NAZIHA MAHMOOD
His services to humanity are indeed unmatched. EDHI commenced in 1951, by purchasing a small shop, converted into the first free dispensary. Edhi solely collected funds at the street corners and begged for the poor. He purchased his first ambulance for 5000 rupees. Edhi sought to give the dead a respectable burial and exercised to heal the destitute. He sheltered more than 20,000 abandoned babies, nurtured above 50,000 orphans and trained 40,000 nurses. These are astounding numbers.
Edhi began his philanthropic career Armed with basic medical training. He drove around the streets of Karachi administering free basic health care to anybody who needed it. Edhi earned a status for being a selfless angel to the injured and unwell. Soon thereafter, he founded the Edhi Trust and Foundation, with an initial sum of mere five thousand rupees. Regarded as a guardian for the poor, Edhi began receiving abundant donations, allowing him to magnify his services; he opened a maternity center and a nursing school. As the funding amplified, Edhi extended his networks of clinics, adoptions centers, kitchens and shelters for abandoned women, children and the mentally challenged..
To this day, Edhi Foundation continues to grow in both size and service, and is currently the largest welfare organization in Pakistan with the world's largest fleet of over eighteen hundred ambulances, twenty-eight rescue boats and two aircrafts with twenty-four hour medical
dispensaries, missing persons' hot line and the largest morgue in Pakistan.
Edhi was the hope for thousands of the poverty stricken countrymen and beyond. His companion Bilquis shared the same love & responsibility towards the downtrodden. She married an "Emergency Service" and her dedication is exceptional!
Edhi's simplicity was exemplary. Feeding upon stale bread for years, he lived in a two-bedroom apartment over his clinic and owned 2 pairs of clothes. He had never taken a salary from his organization. Even personal suffering has never been a reason to compromise over humanitarian efforts! People trusted him with their health, wealth & hearts. Women compensated by donating jewelry. From trash collectors to the well off, everyone donated to Edhi.
The unmatched CHARISMA, modest elegance and immense contribution to the well being of humankind, Edhi was and remain our real hero. To say the least, our love is shy of the contribution of this true hero for humanity. It's beyond conception why the Nobel Committee was unqualified to recognize the most deserving Human Struggle. Had they been able to, it would have raised the value of the Nobel Peace Prize. But, EDHI was beyond that!